Five star food and service for students and staff at CHS
Here at Crompton House School, we have a fantastic, spacious dining room in which we welcome both staff and students. We want to ensure our students have access to healthy meals and pride ourselves in providing a first-rate service, with 5-star food.
Our serving times are:
Breakfast Club 8.00am – 8.30am, for those who like to press snooze…
Pancakes, waffles, bagels, sausage and bacon toast or bagels, plain toast and much more!
A few students enjoying their first day at CHS in the dining room: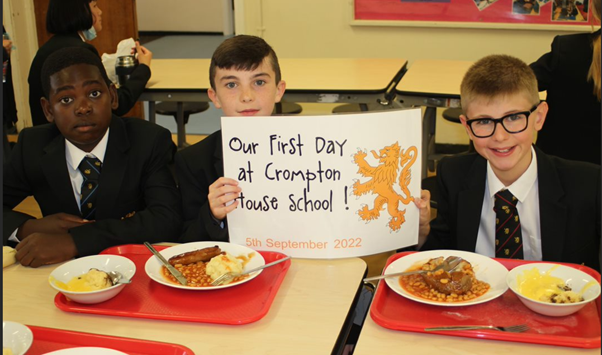 And a look at our all-star catering team providing these fantastic, nutritious meals: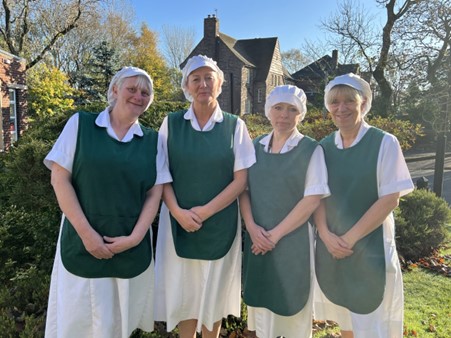 Our food is prepared fresh daily on site and well presented to encourage the children to try different foods. We are keen to offer the students a healthy and varied diet, with the bonus of a few home comforts. As much as possible we try to support many different events in school, such as 
Jubilee themed menu
Valentines Biscuits
Football themed sweet treats
A firm favourite amongst the students and staff alike is the annual Christmas Dinner. This is popular with everyone and served by our School Leadership Team.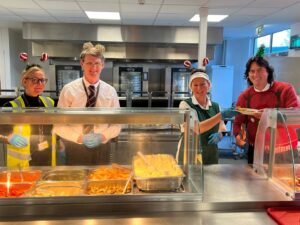 Payment for school meals
At Crompton House School we are a cashless catering school and use ParentPay. This enables us to deliver a more efficient, faster service over lunchtime and break, whilst simplifying things for the students. All parents have a log in for ParentPay which is provided by the finance team. You can contact them on finance@cromptonhouse.org should you need help logging in.  All students have an automatic overdraft on their account of £4 and their daily limit is set at £6. This daily limit can be adjusted and restricted to either break or lunch. Just drop finance an email to discuss. Any student with no funds on their account will be sent to finance to up their limit or available balance. This way, finance can let the parent know this has been done and funds are needed. We never let a child go hungry at Crompton House and will always find a solution.
Free school meals
This allowance is added every day to the students account and must be used that day for a lunch. If the allowance is not used, it comes off and goes back on the next day. If you think your child may be eligible for Free School Meals, please apply online by using the following links –
In additon to these menus, we also offer the following daily: 
Ham and cheese panini 
Bacon and cheese Panini 
BBQ Chicken and cheese panini 
Pizza filled Panini 
Chicken wraps 
Beef burger 
Our dining room also provides a meal deal with any cold sandwich and a drink for £2.50. Pupils can choose from one of the following:
Egg Mayonnaise
Tuna and Sweetcorn
Ham
Cheese and Onion
Chicken & Bacon
Coronation Chicken
Chicken Tikka
Plain water
Strawberry
Watermelon
Apple & Raspberry
Forest Fruits
Lemon & Lime
Orange & Passionfruit
Price list
Food price list for ala carte items
Sm Bacon Sandwich - £1.23

Lg Bacon Sandwich - £1.75

Water / flavoured water - £1.10

Hot chocolate with add-ons - £1.64

Hot drinks - £1.23 / £1.64

Small fruit juice - £1.03
Website Accessibility Statement
Government guidance on public sector website accessibility published by the government in full here states that:
The following organisations are partially exempt from the accessibility regulations:
primary and secondary schools or nurseries – except for the content people need in order to use their services, for example a form that lets you outline school meal preferences.
With this in mind, please email info@cromptonhouse.org if you need any form included on our website which you would like sending to you in a different format.  This is only for content essential for you to be able to use our services.