LOVING GOD, CARING FOR EACH OTHER
AND ACHIEVING EXCELLENCE
LOVING GOD, CARING FOR EACH OTHER
AND ACHIEVING EXCELLENCE
LOVING GOD, CARING FOR EACH OTHER
AND ACHIEVING EXCELLENCE
LOVING GOD, CARING FOR EACH OTHER
AND ACHIEVING EXCELLENCE
LOVING GOD, CARING FOR EACH OTHER
AND ACHIEVING EXCELLENCE
LOVING GOD, CARING FOR EACH OTHER
AND ACHIEVING EXCELLENCE
Mr Hardman and the Duke of Edinburgh's Award team at Crompton House Church of England School in Shaw would like to thank everyone who has donated in any way to the slow cooker appeal. They have been collecting slow cookers and taking donations to buy them in order to donate them to Oldham foodbank.  By the 14th of December they had collected over 100 cookers. Mr Hardman, who co-ordinated the collection said, "With COVID we had a number of young people who were struggling to find a volunteering activity. More people are also using food banks, partly due to the...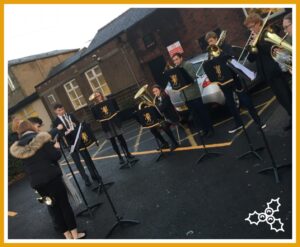 Merry Christmas from CHS.
Click the link to watch our Christmas celebrations.
Thank you for your interest in Crompton House School. Crompton House is an 11 -18 co-educational Church of England comprehensive school. It is school with an inclusive Christian ethos where every student is valued and treated as an individual. We set high standards and expectations and we encourage and support our students to achieve their very best. The school is situated in pleasant and spacious grounds and students benefit from a varied curriculum with access to modern facilities.
Father,
We thank you for the goodly heritage into which we have entered and we pray that you will show us how to maintain and strengthen it.
Enlarge our vision, fill us with high ideals, and inspire us with love and goodwill to all people, so that we may follow in the steps of Jesus Christ, your son, our Saviour.  
Amen.
Pupils' attainment in their GCSE examinations continues to be above the national average.
Pupils enjoy coming to school
They (pupils) like their teachers and work hard for them. They enjoy the wide range of extra-curricular activities that are available to them and participation is high.
Parents and carers are very positive about the school. They feel that leaders ensure that their children are safe and make good progress.