It has been an exciting February which has seen our #WriteaSmile project visit Oldham Hospital's Children's Unit and Newman College for Children's Mental Health Week.
Courtney and Indya met Ms Madeley, Assistant Mental Health Lead, to hand-deliver cards to be distributed to students at Newman College.
Both Newman College and Crompton House have been exchanging cards to help students in Years 7 and 11 to adapt to their new school environment or struggle with GCSE exam pressure. Meanwhile, Kaya and Olivia visited Oldham Hospital's children's Unit to hand postcards to staff to share with patients and their families.
The positive impact of #WriteaSmile could be seen through the comments our students received at both Newman College and Oldham Hospital. Crompton House is proud of #WriteaSmile and can't wait to share its future successes with you all.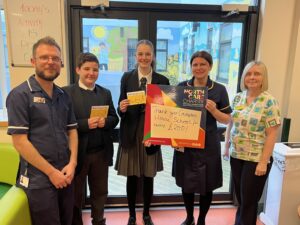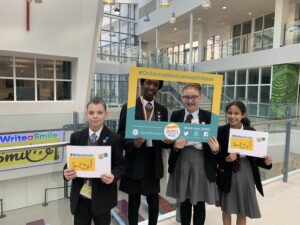 More information on the Crompton House #WriteaSmile project can be found by viewing the video here: https://bit.ly/3RlKr50